As I expertly told you last week, California legislators are already gearing up to fight Trump on illegal immigration. Just as Democrats once defied federal law by demanding "segregation forever." These Democrats are planning to defy federal law by demanding "illegal immigration forever."
Here are details on how they intend to disobey the law.
California's Senate President Pro Tem, Kevin de Leon, announced a bill to prohibit state and local law officials from using any of their resources to enforce immigration law.
The measure, Senate Bill 54, would also create so-called "safe zones" for illegal immigrants in public schools, hospitals, and even courthouses. Immigration enforcement would not be allowed at those locations. Further, the law would ban state government agencies from sharing any information with the feds on anyone's immigration status.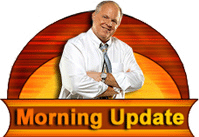 Imagine this scenario. If a terrorist is also an illegal immigrant, California would withhold that information. The terrorist would also have safe zones to hide from law enforcement. Forget about "connecting the dots." The dots will be secret and they'll be hidden.
California's Senate president claims this bill will keep families together. He says California will be a "wall of justice" against supposed inhumane treatment from the Trump Administration.
The Democrats are gearing up for a confrontation with the federal government and the Constitution. They want this fight. It's time they get this fight. And it's time it got smeared right down their throat and any other orifice we can find.