RUSH: Here's Donald Trump. He went back down to the elevators at Trump Tower moments ago this afternoon in New York City.
TRUMP: This is Massa of SoftBank from Japan, and he's just agreed to invest $50 billion in the United States and 50,000 jobs. And he's one of the great men of industry, so I just want to thank you very much.
SON: Thank you, thank you.
TRUMP: Thank you very much — and if you'd like to speak to 'em, but one of the truly great men.
SON: Thank you.
TRUMP: Thank you.
SON: Thank you, Mr. Trump. Thank you.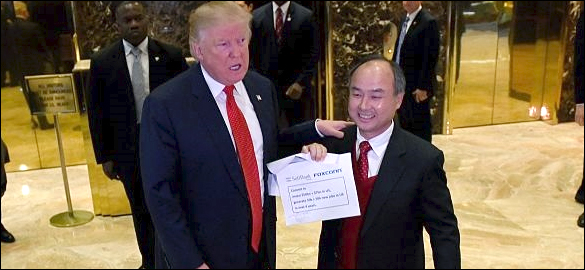 RUSH: So that's Masayoshi Son of SoftBank in Japan. "Thank you, thank you, thank you." I think I met this guy at Trump International. I could be mistaken, but I was walking along, and then Trump said, "Come on, you gotta meet this guy. He's the richest guy in Japan." The name sounds familiar. Anyway, his name is Massa, Masayoshi Son of SoftBank in Japan, 50,000 jobs, $50 dollar investment, meaning I guess they're gonna have branches and stuff here.
Trump at Trump Tower today. (interruption) Baghdad Jim said wait…? (interruption) Oh, it's gonna tick off everybody, the Never Trumpers, the liberals, 'cause, see, Jonah Goldberg pointed out and Baghdad Jim McDermott: He's not president yet. This is very gauche, by the way. Very, very bad behavior, very gauche, very unsophisticated, very uncool to just literally go in there and assume that you can take over the job before you even have it, with no respect for the sitting president. This is what they're thinking.
BREAK TRANSCRIPT
RUSH: TheHill.com has additional details on the $50 billion investment by SoftBank in Japan. Mr. Masayoshi Son of this SoftBank outfit in Japan said that he would never do this — he would not have agreed to invest $50 in the U.S. — if Trump had not won the election. He's doing it precisely because of Trump. That's what TheHill.com is reporting. I'm telling you, heads are exploding out there. You know what? It isn't gonna be long before… Well, I'll make that prediction when I get back.