• GrubHub CEO Sends Employees Anti-Donald Trump Email
• Is the Wall Possible? What Trump Can Do on Immigration
• How the British Government Tries to Stop Youth From Becoming Terrorists
• What the Trump Presidency Means for the Constitution
• The Shocking Intolerance of Anti-Trump Liberals
• How Republicans Could Overcome Filibusters by Senate Democrats
• 'Not Over': 4 Legal Probes Hillary Clinton Still Faces

• A Post-Election Analysis: The Future of the Constitution in a New Administration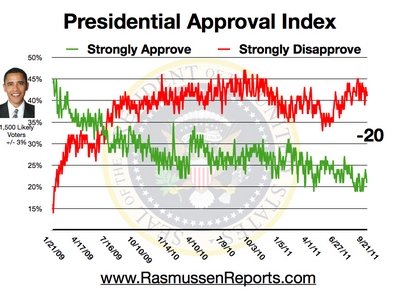 • Presidential Approval Index Tracking Poll
• Most Voters Want To Eliminate Electoral College
• Most Say Trump, Clinton Set Right Post-Election Tone
• Beltway Confidential
• Donald Trump's Astounding Victory: How and Why – Michael Barone
• This Veterans Day, Start Fixing the VA
• Freakout at CBS News
• The Trump 2020 Re-Elect Campaign Going Smoothly

• Here Is A List Of People Donald Trump Is Considering For Senior White House Jobs
• Top Clinton Aide: Loss 'Most Devastating In US History'
• DNC Staffer Flips Out On Donna Brazile During Meeting

• Louis Farrakhan Shares Details Of Private Meeting With Obama
• Page Six
• Hey, Anti-Trump Protesters: Grow Up
• How Trump can take down ObamaCare without leaving millions uninsured
• Second night of anti-Trump protests spread across nation
• Obama's main legacy: the collapse of the Democratic Party
• Making all of America great again: Trump's urban agenda


• The Trump Revolution. How Donald Trump brought populism to Washington
• Continetti: Trump's Election Night Win 'Compares to Reagan's Election'
• Aetna CEO: Everyone's Premiums Will Increase Next Year Unless Obamacare Is Fixed
• Democrats and Media Agreed: There Was No Way Donald Trump Could Get Elected President
• President Obama and President-Elect Trump Deliver Remarks After First Meeting
• VA Hospital Taught Employees to Game Wait Times
• Mandate: ObamaCare repeal tops priority list among Republican voters
• Barkley on Trump: 'We have to give him a chance'
• First fruits of the Trump Era: Strange new respect for checks and balances


• The Note
• Donald Trump Sees Calm After Storm in First DC Trip as President-Elect
• Can Trump Repeal Obamacare in First 100 Days?
• Sanders Doesn't Rule Out 2020 White House Run

• Student Says She Made Up Trump-Inspired Attack Report
"I must be honest. I can only read so many paragraphs of a New York Times story before I puke." -Rush Limbaugh
• Trump and Obama Hold Cordial 90-Minute Meeting in Oval Office
• The Women Who Helped Donald Trump to Victory
• Female Clinton Supporters Are Left Feeling Gutted

• 'Never Trump' Becomes 'Maybe Trump' in Foreign Policy Sphere
• Trump can eviscerate Obama's policies by dropping lawsuits, revoking memos
• Illegal immigrant border crossings reach highest number in two years
• Grubhub CEO tells pro-Trump employees they have 'no place' in company

• Trump win prompts 'come to Jesus' meeting for John Kasich, source says
• What Will a Trump Presidency Mean for Science?
• Michigan middle school students chant 'build the wall'
• Anti-Trump protests resume for second night in New York and across U.S.

• Conquering Trump comes to DC
• Clinton aides blame FBI director, media for devastating loss
• GOP may bring back budget bill to strike blow at ObamaCare

• 'He Was Surprised as Anyone'
• Trump team's revenge
• Trump team warns Obama not to make major moves on foreign policy

• Clinton aides blame loss on everything but themselves
• President-elect Trump blasts media for inciting protests
• Trump: I can't get started soon enough
• A more presidential Trump tries to woo Washington
• America didn't get its first female president, but women won in all these places Tuesday
• Trump can't end same-sex marriages, but he could speed up deportations



• Oregon is epicenter as Trump protests surge across nation
• Behind the smiles, tough reality for Trump and GOP Congress
• Iran deal endangered if Trump seeks to renegotiate its terms

• With Trump, a major US shift in Mideast



• Trump win opens way for China to take climate leadership role
• U.S. consumer financial agency could be defanged under Trump
• Mayors of NY and Los Angeles pledge to remain immigrant sanctuaries

• Trump and Obama set campaign rancor aside with White House meeting



• Post Politics Blog


• President-elect meets with Obama at White House and GOP leaders on Capitol Hill
• Trump's reliance on an 'army of one' faces a shift
• How the new Republican majority can succeed

• I'm a Muslim, a woman and an immigrant. I voted for Trump.


• Americans' Reports of Crime Victimization at High Ebb
• Trump Victory Surprises Americans; Four in 10 Afraid
• Tesla's Future in Trump's World
• Trump Win Puts a Bullseye on Warren's Banking Watchdog
• Why Trump Will Be Great for the Democrats
• Classless Obamas Cancelled Photo-Op of White House Welcome for President-Elect Trump and Wife Melania
• Far Left Group ANSWER Coalition Plans MASSIVE DEMONSTRATION-UNREST During Trump Inauguration
• NBC Promotes Race War After Donald Trump's Historic Victory
• NY Times Crank: "America Elected a Bigot" "I Do Not Respect the President-Elect"
• Seattle Socialist Councilwoman Calls on Protesters to Shut Down Trump's Inauguration (VIDEO)
INVESTOR'S BUSINESS DAILY
• Political News & Commentary: Andrew Malcolm
• Left-Wing Bigotry And Hatred Is On Full Display After Trump Win
• The Real Reason the Media Got This Election All Wrong
• Why Hillary Clinton Lost: An Election Post-Mortem
• Trump Supporter Goes NUTS on NBC's Cal Perry and the Media
• GrubHub Under Fire After CEO Tells Employees Who Support Trump's Rhetoric to Resign
• Watch 'Shellshocked' Charles Barkley and TNT's Inside The NBA Crew React to Trump's Election
• Trump wins U.S. Presidency! Climate Skeptics Rejoice! Set to dismantle & Defund UN/EPA climate agenda!
• Tolerant Left: 'Orange is the New Black' Star Threatens to Beat Republicans with Baseball Bat
• Jennifer Lawrence Fired Up: Let Trump's Win 'Enrage You'
• Michael Moore: Sanders Would Have 'Absolutely' Won
• Amy Schumer Says Vow to Leave Country if Trump Won Was a Joke

• Aaron Sorkin: Trump Victory a Win for KKK and Sexists
• Nervous Pentagon Wonders if It Can Slow Down Commander in Chief Trump
• Trump Is Proof: Feminism Isn't Free

• RCP Blog
• Real Clear Markets
• A Critic's Hopeful — But Wary — Eye on Trump – Mark Salter
• What Congress Can Do to Honor Our Veterans – Taya Kyle
• Obama Meets With Trump: My Number One Priority Is To Ensure He Is Successful
• Tomi Lahren: A Bunch Of Sore Losers Gathered Together Isn't A Protest, It's A Tantrum
• If We Say We Want Inclusiveness, Let's Mean It and Practice It
WALL STREET JOURNAL: OPINION JOURNAL
• Best of the Web (James Taranto)
• What Comes After the Uprising – Peggy Noonan
• Trump's Secret Weapon: Obama – Kimberley Strassel



• Blogs: The Corner | Media Blog | Frum's Diary | Mark Levin | Sixers
• Democrats Have No One to Blame but Themselves for Trump
• Obama Helped Pave the Way for Clinton's Defeat
• How the New Republican Majority Can Succeed
• RIP Clinton, Inc.
• Donald Trump's Astounding Victory: How and Why

• The Politics of Catharsis
• Post-Election Ponderings and Presidential Pardons



• Muted NYT Does (A Little) Soul-Searching After Being Shocked By Trump
• Chelsea Handler, Barbara Boxer Break Down in Tears Over Hillary Loss
• 'The Great Indoors' Mocks Coddled Millennials Having to Face Real Work
• CNN's Van Jones: Trump Has America 'on Track for a Tragedy'
• CBS Frets Trump's Effect on the Mexican Economy and Job Market
• Planned Parenthood CEO: 'I Think Roe v. Wade Was On The Ballot'
• Gingrich: Beware of Republicans Speaking 'Honeyed Words of Subversion'
• Pat Buchanan–Memo to Trump: Avoid 'The Same Old Con'
• Smithsonian, Responding to Criticism, Now Mentions Clarence Thomas, But Only in a Footnote to Anita Hill
• Top EU Official Disputes That Trump Could Upend Iran Nuclear Deal
• Paul Ryan Views Trump As 'A Man of Action,'Ready to Get Working'



• Trump: I 'Love' That Protesters Show 'Passion' for America
• Breakthroughs Help Vets Win the PTSD Battle
• Paul Ryan on Trump Meeting: 'He Is Ready to Get Working'

• Record Numbers of Illegals Being Detained Across US

• Reality Check: If You Voted For Trump, You Must Be Racist
• Morning Joe Turns Confrontational in Post-Election Self-Reflection on Role of Media
• MSNBC's O'Donnell: Clinton-Trump Election 'Is a Public Intelligence Test'

• CNN's Van Jones: Trump Has America 'on Track for a Tragedy'
• Trump takes control back of his Twitter!
• Portland anti-Trump protest descends into a riot
• The US election shows the wounded male ego is one of the most dangerous forces in politics
• Tiny town in Slovenia where Melania Trump grew up basks in glow of her impending role as First Lady


• Trump and Obama put differences aside in first meeting at the White House
• Democrats once represented the working class. Not any more