RUSH: Now, the LA Times poll itself has been disregarded by the Drive-Bys 'cause it's always shown (except for a couple weeks) Trump leading. By the way, the final LA poll Times today, Trump +3. The final IBD/TIPP poll today, which is the poll that called 2012 exactly, has Trump +2. All of the other Drive-By Media polls have Hillary anywhere from +3 to plus +5, and in every one of those polls that's within the margin of error.
In fact, let's stay on this line of thinking for just a second.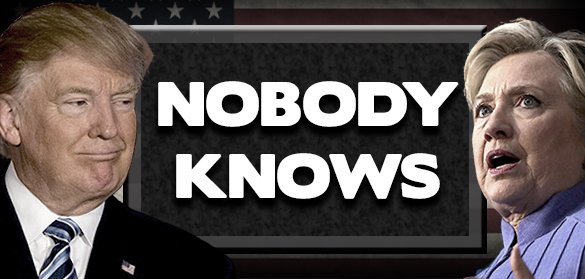 The CNN story: "Early Voting Data Suggests Clinton Lags in North Carolina Compared to 2012." Daily Caller: "Trump Edges Out Clintons in Michigan on Election Eve." This story says, "Trump holds a slight lead over Democratic nominee Hillary Clinton in Michigan on the eve of Election Day, according to a newly released poll. Trafalgar Group, a Republican leaning firm," it says here, "surveyed over 1,200 'likely general election voters' in the Great Lakes state on Nov. 6." Trump garnered 48.52% support, while Clinton received 46.82% support. Libertarian nominee Gary Johnson and Green Party nominee Jill Stein received 2.89 and 0.90% support respectively…
"A Fox 2 Detroit/Mitchell poll reported that Clinton had a five-point lead in Michigan on Nov. 3. The RealClearPolitics average shows Trump at 42.3% and Clinton at 47.3%…" So there's that five-point spread but it's also in this poll's margin of error. So again it's all over the place, but there are late signs, particularly when it comes to the early voting that it's not going to according to conventional wisdom. From a white-knuckled Politico: "Trump Hangs Tough in Battleground States — Clinton is consistently ahead in national polls, but the state-level polls tell a different story.
"Donald Trump is still in the hunt," they say here. "While Hillary Clinton remains consistently ahead of Trump in national, election-eve polling — the race is closer in the most populous battleground states, where Trump could still spring an upset. … [N]ew surveys in Florida and North Carolina show the race for those states' combined 44 electoral votes on a knife's edge, suggesting that Clinton has not locked down an Electoral College majority despite her national advantage," and, by the way, despite the mainstream's claim she's already won.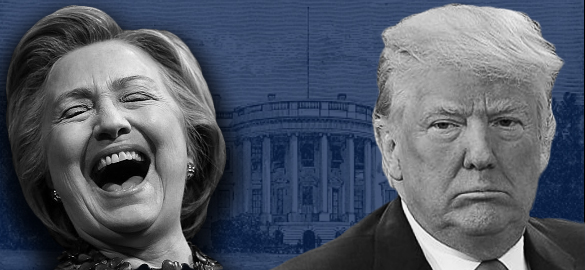 Are you aware the last two, three days the Drive-Bys have been treating this as though it's over, that Hillary has won? It's all over about the shouting, and then they begin to add in, "But what you know it looks, maybe Trump could win the Electoral College. It looks like…" They're starting to set up that possibility. It's only because they're not confident she has won. They don't know, folks. There are simply too many variables here, and there are too many little bits of things they can count on that are not showing up, such as the two glaring examples are the early voting numbers and by whom in North Carolina and in Florida.
"The journalists at CBS This Morning on Monday preemptively demanded to know if Donald Trump will be a 'graceful' and 'gracious' loser" tonight. You know, like Algore was. And like John Kerry was. And like Obama and Hillary were when they lost. Oh, yes. We got that out there. They're already wondering whether Trump will concede. So at CBS, they have it over.
"Washington Post-ABC Tracking Poll: Clinton 47%, Trump 43% on Election Eve — Hillary Clinton maintains a narrow four-point advantage over Donald Trump in the Washington Post-ABC News Tracking Poll," 47% support Clinton, 43% support the Trump.
Now, the Washington Post doesn't bother to mention… They partner with ABC on this. What they don't bother to mention is when you drill to the bottom, there's a PDF included here, a 12-page PDF document with all the polling data in it. You drill down to the bottom and you will find they sampled 37% Democrat, 31% Republicans, and 27% independents. And then this. You have to drill down deep to find this. "Clinton's edge in the Post-ABC poll does not reach statistical significance given the poll's 2.5 percentage-point margin in sampling error around each candidate's support…"
What they're telling us is that our poll doesn't mean anything because there's a total 5% margin of error here, 2.5%, either way for both candidates. So they are saying the poll doesn't mean that Hillary will win. But you have to drill down way, way, way to the bottom of their story to read them write that. They say the difference in Hillary's lead is not "statistically significant." (scoffs) If it's not statistically significant, it's not significant period! It means, why did you bother reporting it, then, if it doesn't mean anything? That is the right way to react to it.
So why do we have…?
This is my point that I raised earlier. Why do we have months and months and months of polling, if time after time they end up saying when it comes down to crunch time, they can't predict how things are gonna turn out? What does that mean to you? What does that actually tell us the polling data is used for? If they can't tell us via their polling who's gonna win, then what could they possibly be using it for? This is 47-to-43% edge that Hillary has is identical to the same poll in mid-October. It hasn't changed.
Meanwhile, the LA Times poll: Hillary 44.6%, Trump 46.8%. It's roughly a three-point Trump lead. "Who do you think will win?" Hillary 52%, Donald Trump 42%. Two different questions. And then the IBD poll, Trump holds a two-point lead over Clinton as Election Day arrives.
BREAK TRANSCRIPT
RUSH: Nate Silver appears to be hedging his bets out there. Nate Silver is the wunderkind poll analyst that the left treats as the pope. Nate Silver is infallible, except he isn't anymore. Nate Silver doesn't actually do polling. He takes all the polling data he can find, processes it, and then rates candidates on a percentage chance of winning. And his latest had Hillary with a 60-some-odd chance and Trump with a 30-some-odd chance of winning.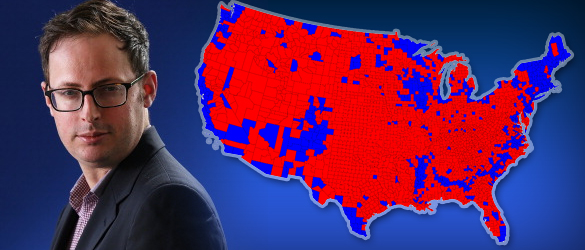 However, Nate Silver, founder of the FiveThirtyEight.com blog and polling firm, says that many 2016 polls may prove incorrect because so many Americans are undecided or else say they are backing third parties. Nate Silver, in a tweet this morning, said undecideds are much higher than normal, so the risk of a polling error in either direction is higher than usual.
Silver is cautioning people to be ready for a major failure by pollsters in predicting America's last-minute choices. Now, Nate Silver, to avoid a riot, says that Clinton is still likely to win, but — and then lists all the possibilities where she might not win. Here are his three possibilities: A solid Clinton win, an epic Clinton blowout, and a close call Trump probably wins Electoral College. Those are the three possibilities.
If the polls understate Trump's support by 3% by a uniform margin of 3%, Clinton still wins, although just barely, Silver said. But no matter, Nate Silver today is declaring 2016 polls less reliable than prior years, may be hedging his bets a little bit, maybe covering the old derriere just a little bit here. It just means what we've been trying to pound into people's heads for the longest time. They don't know, because nobody does.
Look, Trump's candidacy presents a dynamic that they can't factor. That's the problem that they're having when you get right down to it.
BREAK TRANSCRIPT
RUSH: There's another great indicator here that you can look at. It might give you an indication: wrong track, right track. You know what the wrong track number is? Latest, 70% wrong track. Now, if people associate Hillary Clinton with things that have this country on the wrong track, and practically every Trump supporter will do that, then we could be looking at something huge today. And nobody in the polling universe is talking about that one, folks.