• Beware the Toxic Sequel to Donald Trump's Flailing Presidential Campaign
• US Right to Affirms Necessity of Missile Defense in South Korea
• Fact-Checking 7 Claims in the President's Speech on Obamacare
• Think the First Amendment Protects Books and Movies? Government Officials Don't Agree
• 'I Don't Have Anyone Left': What Life Is Like for Refugees in Ukraine
• Student Sues Over Iowa State's 'Speech Code'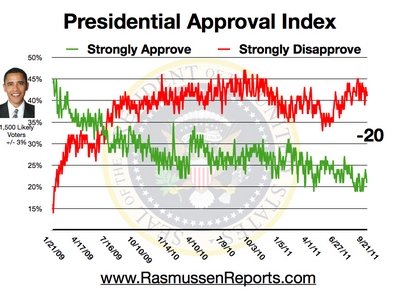 • Presidential Approval Index Tracking Poll
• Voters Say This Year's Presidential Race More Negative Than Ever
• White House Watch: Still A Close One
• Beltway Confidential
• State Works Hard, and Illegally, for Clinton
• Secret Service Also Considered Clinton a Nasty Woman – Paul Mirengoff


• Clinton Campaign And Harry Reid Worked With NYT To Smear State Dept Watchdog
• WikiLeaks: 'Corrupt Ruling Power Factions' Will Win
• Obama Touts Obamacare In Florida, GOP Lawmakers Slam Law's Failures
• Did Andrea Mitchell Get A Question Straight From Hillary's Spokesman?
• Page Six
• Turning Clarence Thomas Into an Invisible Man
• Why Trump's fall will hit hard – Salena Zito
• Russia may try to forge evidence of voter fraud
• The mystery of the Bermuda Triangle may finally be solved


• Crisis of the Conservative Intellectual
• SuperCut: Bill Clinton Struggles as Hillary's Surrogate
• Cecile Richards Won't Say Whether Ritual Sacrifice Is a Religious Freedom Issue
• Abedin on Hillary Clinton's $12M Morocco Solicitation: 'She Created This Mess and She Knows It'
• Michelle Obama Doesn't Know Name of Arizona's Dem Senate Candidate
• Clinton Caught Obstructing Congressional Investigation Into Private Server
• Patrick Murphy Used Saudi Donor Network to Gain Favor With Florida Democrats
• Obama Blames Obamacare 'Hysteria' on the Media
• Bill Clinton Wanted 'Young Latina Celeb Type' to Campaign With Him
• AP: Bayh skipped out on Indiana in last year of office, went job-hunting in NY instead
• Axelrod: I'll bet the house that Michelle Obama never runs for office
• Obama: ObamaCare is like a defective cellphone, or something

• The Note
• Trump Booed at Al Smith Dinner After Jabbing Clinton
• What Happens if Donald Trump Doesn't Concede?
• Flood Victims Face Major Challenges as Early Voting Begins
• Trump, Clinton Trade Caustic Barbs as Roast Turns Bitter
"I must be honest. I can only read so many paragraphs of a New York Times story before I puke." -Rush Limbaugh
• Trump Says He Will Accept Election Result 'if I Win'
• Trump Jests, and a Tough Room Jeers
• In Debate, Hillary Clinton's Clarion Call for Women Thrills Many
• Donald Trump's Defiance Is Seen as 'Colossal Mistake' That Threatens U.S. Image
• Hillary Clinton embraces George Soros' 'radical' vision of open-border world
• Obama touts progress, seeks cure for health care law's 'growing pains'
• Hillary Clinton: 'I know nothing' about Democratic dirty tricks exposed in videos
• Hillary Clinton campaign, Univision teamed up to trash Donald Trump, WikiLeaks emails reveal
• High Spot: Brain's Marijuana Center Imaged in 3D
• Donald Trump and Hillary Clinton trade jabs, zingers and stinkers during Catholic charity dinner in Manhattan
• Donald Trump 'crossed a line' at Al Smith dinner, family says

• The Briefing Room
• High anxiety for GOP
• CNN: Early swing-state voting numbers show good signs for Clinton
• Web attack takes down major websites on East Coast

• Donald Trump's Year of Living Dangerously
• WikiLeaks poisons Hillary's relationship with left
• Trump's incredible shrinking map
• Where does the GOP go from here?
• Will Ryan and McConnell concede for Trump?
• Poll: Trump and Clinton in virtual tie in Georgia
• Today's Standard
• The NFL in Decline

• This election is much more than Trump vs. Clinton. It's old America vs. new America
• We've updated our electoral map: More states move away from Trump
• Trump faces bipartisan criticism, from the White House down, for saying he may ignore election result



• Trump says he'll accept a clear election result, won't lose
• Flood victims face major challenges as early voting begins
• Opposition cries dictatorship after Venezuela blocks recall
• IS attacks Iraq city of Kirkuk, power plant amid Mosul fight



• Polling safeguards stepped up after Trump's 'rigged election' claim
• Trump's war chest one of smallest in recent presidential campaigns
• Congressional race in Virginia shows Trump drag on Republicans
• Trump says he will accept election result – if he wins



• Post Politics Blog

• GOP braces for Trump defeat, rushes to protect down-ballot seats
• Charles Krauthammer: My vote, explained
• Why Trump's 'sneak attacks' won't defeat the Islamic State
• Who's really rigging the election against Donald Trump?

• Obama Averages 52.0% Job Approval in 31st Quarter
• Americans' Views Shift on Toughness of Justice System
• Baby Boomers Are Getting Too Old for Sports Cars
• Trump's Jokes Strike a Sour Tone at New York's Al Smith Dinner
• Hillary Remembers 1987 NYT Ad During Debate but Can't Remember Answers to FBI Questions During Email Scandal Interview
• Detailed List of Top Wikileaks Podesta Emails
• 30 Reasons in 30 Days to Vote for Donald Trump #18 Hillary's Attack on Second Amendment
• Video Appears to Show Hillary Clinton Staffer Feeding Questions to Reporters During Post-Debate Presser
• WIKILEAKS: CNN's Jake Tapper Emailed Hillary's Campaign Chairman For Twitter Advice
INVESTOR'S BUSINESS DAILY
• Political News & Commentary: Andrew Malcolm
• Hillary Can't Even Tell The Truth About Her Own Economic Plan
• Hillary Has Some Chutzpah Ripping Trump For Not 'Respecting' Fraudulent Vote
• Obama Trashes Republicans Over Trump-Boosting, Singles Out Rubio: 'Come On, Man!'
• What Were Clinton and Trump Chatting About at Al Smith Dinner?
• Carl Bernstein: Trump is Setting Himself Up to Head 'Neo-Fascist' Movement
• UN Paris climate deal 'is likely to be history's most expensive treaty' 'Cost of between $1 trillion and $2 trillion annually'
• Miley Cyrus to Knock on Doors in Virginia for Hillary Clinton Campaign
• Colbert: Trump Will 'Wipe His Fat Ass With the Constitution' If He Loses
• Exclusive: 'Clinton Cash: A Graphic Novel' Ad Shows How Hillary Clinton Helped Transfer U.S. Uranium to Russia
• Producer Launches Campaign to Defeat NRA
• Popular YouTubers Criticize Casey Neistat's Call to Arms For Hillary Clinton
• Newt Gingrich and Dick Gephardt Back Trump's Wait-and-See Election Stance
• Al Smith V: Trump 'Crossed the Line' at Charity Roast

• RCP Blog
• Real Clear Markets
• Trump's Troubles Inflict Pain Down Ballot
• Trump: I Will Totally Accept Result If I Win
WALL STREET JOURNAL: OPINION JOURNAL
• Best of the Web (James Taranto)
• Where Trump Fell Short



• Blogs: The Corner | Media Blog | Frum's Diary | Mark Levin | Sixers
• Yes, Hillary Clinton Is a Late-Term-Abortion Radical – Ramesh Ponnuru
• Fact-Checking the Debate Fact-Checkers on Abortion
• Hillary and the Book-Burners
• My Vote, Explained
• Bans on Political Donations Help Reporters Hide Bias
• Hillary Clinton's Dishonesty Was on Display in Final Debate

• Speaking Truth to Power Becomes Sucking Up to Power
• Paying the Price for Calling Obama a Commie



• ABC's WNT Attaches Words 'Sexual Assault' to Trump, But Not to Clinton
• Libs Gone Insane: 'Is Porn Racist?' Of Course, It Is!
• ABC's 'Notorious' Takes a Pro-Life, Pro-Adoption Stance
• ABC Runs Clinton Debate Highlights, Touts Obama's Campaign Support
• Former ICE Agent: Smugglers Have 'More Effective' Intel Network Than US Gov't.
• U.S. Combat Casualties in Iraq Rise to 3,693
• Women's Rights Without Frontiers: Clinton Wrong on Forced Abortion in China
• Obamacare Implementer on Move to Public Option: 'A Huge Mistake'
• President Says GOP Opposes Obamacare Because He Passed the Law



• Poll: Loser Should Accept Outcome
• Cardinal Dolan: Trump, Clinton Courteous Behind the Scenes
• Cyberattack Hits Twitter, Spotify, Amazon
• Clinton Leads Top 10 'Islamic Money in Politics' List

• Obama Warned of Rigged Elections Back in 2008
• Kerry Praises Obama: 'He Has Been Able to Circumvent Congress'
• Hillary in 2002: Bush was 'Selected' President, Not 'Elected'
• Saudi Arabia Called to End Extreme Punishment of Minors by UN Committee
• North Korea suffers second failed missile test as US warns Pyongyang of an 'overwhelming' response
• Even Hillary can't fake a smile! Trump is repeatedly booed as series of mean-spirited Clinton 'jokes' fall flat
• Donald Trump booed as he calls Hillary Clinton corrupt at gala dinner: US election briefing and polls
• Swing states: the key states that will determine whether Donald Trump or Hillary Clinton wins the US election


• Central American migrants showing record levels of mental health problems
• Could a President Trump avoid conflicts of interest? Experts aren't convinced
• A massive cyber attack caused major websites to go down across the internet