RUSH: One thing I forgot to mention, every caller — every caller that we take on the air — is going to be offered a brand new iPhone 7 Plus today. (interruption) Why are you…? What in the world are you doing? (interruption) Well, there are caveats here. You will not get your color choice. These are extremely hard to get, folks. It's amazing I've gotten the supply I have, and they're not comped. I buy them. But every caller today is going to get an iPhone 7 Plus. They are, for today, AT&T and T-Mobile only.
They will not work on Verizon or Sprint. As I say, I've had to get these things in spurts, and it's complicated, but because Apple is allowing Intel to make some of the LTE chips. Intel chips don't work on Verizon or Sprint. So AT&T models normally are the ones that are world phones, will work on any network around the world, including a ChiCom network. But not this year. So anyway, that's what's on tap for today. I'm out of time here as is the usual case. I will explain the rest of this when we come back and get started with the rest of the program.
BREAK TRANSCRIPT
RUSH: Every caller that makes it on the air today will be offered a brand new iPhone 7 Plus. These phones today will only work on AT&T and T-Mobile or other GSM networks. Let me briefly explain to you why this is. Apple every year makes a phone that will work if it's unlocked on any network around the world. This year that model happens to be the Verizon model. The reason for this is that Apple, spreading their supply chain around to handle shortages and others problems, is allowing Intel to make a certain number of LTE chips for the iPhone. Intel's LTE chips only work on T-Mobile or AT&T.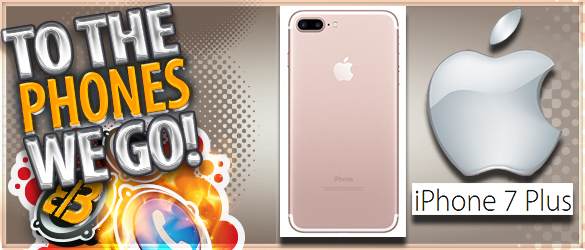 So those are the models that I have at the moment. My stock will increase. As I say, I buy these for gifts, business and a number of other things. I've been thinking about giving these things away randomly these past couple of weeks. It just kind of sounds odd if I pick a caller in the 2 PM hour to give a phone to, how did I choose that one and nobody else? Unfair. So I've decided today that every caller gets one. They're going to be rose gold or gold. They are probably going to be 256 gigabytes of storage. There might be some 128s in there.
But they are the top-of-the line iPhone 7 Plus with the brand new dual-camera system that include a genuine telephoto lens that is optical telephoto, not digital, not the result of software tricks. It's amazing. It's the finest camera on a mobile device in the world. The phone itself is the finest phone. The finest mobile device anywhere in the world, and I'm thrilled. I love these things and I'm thrilled to be able to share them with as many people as I can.
So, again, no Verizon, no Sprint models today. Just AT&T. They're unlocked. So all you have to do is swap your SIM card in them. If you have a phone now take your SIM card out, as long as it's a 5S or newer, iPhone 5 or newer, and you're good to go. If not, take it to your phone store, T-Mobile, AT&T, get it moved. It's easy. The phone's unlocked, it's ready to use and that's that.
BREAK TRANSCRIPT
RUSH: Just a little prize note here before we get back to the political and entertaining component content of the program. Every caller that I take on the air today will be offered a free, brand new iPhone 7 Plus. Just a couple of caveats. These phones today will only work on AT&T and T-Mobile, AT&T and/or T-Mobile. They're unlocked, meaning they're not tied to any carrier. All you have to do is take the new phone to your carrier store and have your current phone switched — or, if it's a new phone, just go set it up as a new phone.
Tell them it's a gift. We don't have any color choice. You get gold or rose gold, 256 gigabytes of storage. But it's the greatest mobile phone that has ever been made. It has the greatest dual-camera system, a genuine telephoto lens with optical zoom, not just digital or software-created zoom. It's amazing, and there's going to be a software update coming soon that's going to have a new feature in the camera called a bokeh effect, which is a picture that keeps your subject in focus and makes the rest of it look out of focus. That feature is coming.
It's being tested now and it works like a charm. It's the fastest phone in terms of processor. It is the greatest. It's said to have the best, greatest display screen of any mobile device on the market today. It is 50% brighter than the phones from last year. There's just a lot to recommend it, more than I have time to mention here. Now, Mr. Snerdley told me that some people started to call and say, "Hey, I'm just calling for the phone." No, folks, it doesn't work that way. You have to be cleared as a caller.
You don't have to take the phone. It's being offered to you. But I just want you to understand up front. Now, if you want an iPhone 7, if you want the smaller, I can probably accommodate that. If you want. But the iPhone 7 doesn't have the revolutionary dual-lens camera on it. It's up to you. Some people like the smaller phones just because it's easier to use. I may only take two calls today. I don't know. It's the way it is. I'm just teasing. We'll have a significant number of calls and everybody who calls will be offered a phone.