• What Donald Trump Got Wrong About Unemployment
• Lessons on Free Trade From the Great Depression
• US a Big Winner From Global Outsourcing
• Concealed-Carry Permit Surge Could Play Decisive Role in These 2016 Battleground States
• Rigged Election? A History of Presidential Candidates Who've Made Allegations
• Secret Deal Among AGs to Prosecute Climate Change 'Deniers' Challenged in Court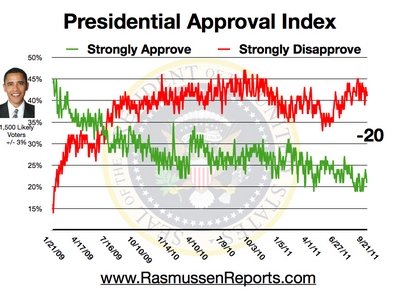 • Presidential Approval Index Tracking Poll
• GOPers Favor Ryan's Reelection But Think Party Should Be More Like Trump
• Most Still Oppose Government Prosecution of Global Warming Critics
• Beltway Confidential
• The End of History Not Turning Out as Hoped – Michael Barone
• Hayward's modest proposal, &c.
• What Black Lives Matter really is about

• Orlando Terrorist's Dad Gets Prominent Seat At Hillary Rally
• Krauthammer On Hillary's Email Cover-Up: 'So Many Lies Now, She Lies About Her Lying'
• Public College Offers Blacks-Only Classes, Claims It's Totally Okay
• Parents Of Two Benghazi Victims Sue Hillary Clinton For Defamation And Wrongful Death
• Page Six
• Hillary Clinton's Loose E-Lips


• Deborah Ross Wanted Christmas Songs Banned From Elementary School
• Soros-Fueled PAC Paying
Salaries to Employees at Pro-Illegal Immigrant Group
• Green Energy Billionaire Tom Steyer Maxes Out for Ted Strickland
• Dingell Can't Name One Accomplishment by Clinton as Secretary of State
• FY 2016 Budget Deficit Larger Than Expected
• Record 600 Major Regulations Imposed Under Obama
• VA Drops Millions on Delayed Solar Power Projects
• Report: Hillary Clinton's Job Creation as NY Senator Far Below What She Promised
• The total bill for new regulations under the Obama administration is staggering
• Video: Feds raid Philly IBEW office cleverly disguised as Hillary campaign HQ
• How many candidates will be on the debate stage this fall?
• CNN: Maybe some of these terror attacks aren't terrorism

• The Note
• Benghazi Parents Blame Clinton in Lawsuit
• Father of Orlando Nightclub Shooter Attends Clinton Rally
• Trump Faces Fresh GOP Pushback Despite Bid to Reset Campaign
• Clinton Accepts Fall Debate Schedule, Challenges Trump
"I must be honest. I can only read so many paragraphs of a New York Times story before I puke." -Rush Limbaugh
• GOP Donors in Primaries Are Turning to Clinton
• Mormons' Distaste for Trump Puts Utah Up for Grabs
• 50 GOP Officials Warn Donald Trump Would Put Nation's Security 'at Risk'
• Donald Trump Adopts GOP Tax Cuts, but Balks at Trade Pacts
• Justice Dept. lawyers ordered to take ethics classes after misleading judge in amnesty case
• Donald Trump suggests Hillary Clinton emails linked to Iranian's execution
• Trump thanks GOP national security officials for opposing him
• Father of Orlando terrorist Omar Mateen attends Clinton rally
• Beyond 'Pokmon Go': Future Games Could Interact with Real Objects
• Father of Pulse nightclub shooter backing Hillary Clinton
• Clinton beating Trump by 10 percentage points in latest poll shows mogul's campaign is in disarray

• The Briefing Room
• Dems seek Trump referendum
• US cyber arsenal is smaller than imagined on purpose
• Trump campaign has spent $0 on television advertising

• Trump strikes back against GOP critics
• Poll: Clinton leads by 13 points among likely voters
• 50 top GOP officials: Trump would 'risk our country's national security'
• New Clinton email fight: Bill Clinton's schedules
• Trump: I'm not changing strategy or my temperament
• Trump's Frankenstein economics
• Today's Standard
• Donald Trump Has A Republican Problem

• Clinton makes a lot of promises which can she keep?
• A look behind how presidential debates are scheduled: Can they be rigged?
• Curt Schilling says he'll run for president in eight years



• Trump faces fresh GOP pushback despite bid to reset campaign
• Poll: Young Americans favor LGBT rights on adoption, more
• Clinton spends big on Olympic ads, with Trump on sidelines
• Delta cancelling nearly 250 flights Tuesday morning



• Trump flops with Silicon Valley donors; Clinton falls short, too
• Republican national security experts: Trump would be 'dangerous' president
• House Speaker Paul Ryan faces primary test after belated Trump endorsement
• Clinton says she will participate in the three presidential debates
• Trump seeks a campaign reset with Detroit economic speech



• Post Politics Blog


• Trump faces new round of resistance as he tries to reset campaign
• Trump needs a miracle to win
• Hillary Clinton's short-circuited apology
• Trump's economic plan ignores the Americans he claims to speak for

• Saudis See Hope After Oil
• Percentage of Pack-a-Day Smokers Hits Record Low in U.S.
• Brexit Bulletin: What the Rest of the EU Wants
• Uber Proves Why Silicon Valley Should Stay Out of China
• Trump Tax Plan Seen as Boon for Rich, Question Mark for Others
• Without Educated White Women, GOP Is Doomed – Conor Sen
• Hillary Freezes Again! Has Another Mid-Sentence Blackout on Stage in Florida
• New Questions on Hillary's Health=> What is She Hiding Under Her Duster Jacket?
• Seddique Mateen Father of Pulse Club Islamist Killer Spotted at Hillary's FL Speech Behind Stage
• Vandals Climb Fence to TORCH Trump Yard Sign Owners Get Call from Trump
INVESTOR'S BUSINESS DAILY
• Political News & Commentary: Andrew Malcolm
• Look Out, Hillary! On the Economy, It's Advantage: Trump
• Orlando Terrorist's Father Spotted Attending Hillary Clinton Rally
• Ahmed Mohamed, Muslim 'Clock Kid,' Is Suing His Hometown For Civil Rights Violations
• Nearly $300 Billion: The 7 most expensive regs in Obama's climate plan
• Will Smith Hopes America Can 'Cleanse' Itself of Trump Supporters
• Meryl Streep: Trump Supporters Get 'Ginned Up' By 'Bloodlust' at Rallies
• Lady Gaga Tweets Support for Black Lives Matter: 'How Many Children Must We Lose?'
• Kardashian Sisters and Moms Demand Action Team Up for Gun Control
• NBC Invites Leslie Jones to Rio for Olympics Commentary
• Orlando Shooter's Father Spotted at Hillary Clinton Rally
• Is Florida Even a Swing State Anymore?

• RCP Blog
• Real Clear Markets
• Clinton's Boring, Pedestrian–and Effective–Campaign – Byron York
• Trump Seeks to Turn Page With Policy Speech – Caitlin Huey-Burns
• Hillary Clinton: "Don't Let a Friend Vote Trump"
• Censorial DePaul Bans Conservative Ben Shapiro
WALL STREET JOURNAL: OPINION JOURNAL
• Best of the Web (James Taranto)
• Trump Gets It Wrong: Trade's a Winner for Americans – Robert Zoellick
• The College Formerly Known as Yale – Roger Kimball



• Blogs: The Corner | Media Blog | Frum's Diary | Mark Levin | Sixers
• A Pointless Anti-Nuclear Gesture
• Trump's Big Tax Hike
• Conservatives Must Get Busy Living or Get Busy Dying
• Trump vs. Trump
• Yes, Hillary Would Raise Taxes on the Middle Class
• Pope Francis and the Decline of the West

• Trump Is Right: Elections Can Be Rigged
• How Donald Trump Can Become One of Our Greatest Presidents



• Media Hype Buffett's Clinton Endorsement, Forget $1.8 Bil to Abortion
• The Nightly Show Mocks American Pride During Olympics
• Ex-MSNBC's Abrams: 'Many in Media to Left of Hillary,' Not 'Swooning'
• Bloomberg 'Can't Figure Out' 'Mystery' of Why Anti-Hillary Books Sell
• Media Scream: AM Joy Says Clinton Email Scandal Too Hard to Understand
• CBS Admits: Host Gayle King Attended Gushing Obama Birthday Party
• Trump Proposes Letting Parents 'Fully Deduct the Average Cost of Childcare' From Taxes
• Panel Sends Alabama Chief Justice's Ethics Case–Over Handling of Same-Sex Marriage-to Trial
• Executed Nuclear Scientist Returned to Iran After His Family Was Held 'Hostage,' Opposition Says
• Clinton: 'I Have Proposed an Office of Immigrant Affairs for the White House'
• Clinton: 'If You Want to Start A Business, We're Going to Put a Moratorium on Your Student Loan Payment'



• Andrea Tantaros: Ailes Sexually Harassed Me Too
• NBC Poll: Clinton Leads Trump by 10 Points, Gains Ground With Men
• RNC Pushing to Get Bill Clinton's Schedules
• Trump: 4 Percent Growth 'Easily Attainable' Under My Plan

• Obama: 'I'm Being Forced Out, I Didn't Quit'
• Socialist Gov't Bureaucrats Eat Cake While Venezuelans Starve
• Atheist Group Goes After Cops For Praying
• Video: State Dept. Official Literally Laughs at Idea of 'Transparency'
• Orlando night club shooter's father spotted behind Hillary Clinton at rally in Florida
• Khizr Khan says Trump has caused growing intolerance towards Muslims
• Donald Trump promises tax-free childcare to jump-start US economy
• Anti-Trump Republicans back former CIA officer Evan McMullin for president


• 'Dangerous' Trump: 50 key Republicans sign letter warning against candidate
• Fact-checking Donald Trump's speech on his economic plan