• Enough Already With 'All Lives Matter'
• Fire Grants: Do Not Fund the Ineffective and Wasteful Program
• The Postal Service Needs Transformational Reform to Survive, but Hope for Reform is Fading
• House Shouldn't Rubberstamp Senate's Misleading GMO Bill
• Social Conservatives Declare Victory on Bathrooms, Marriage in GOP Platform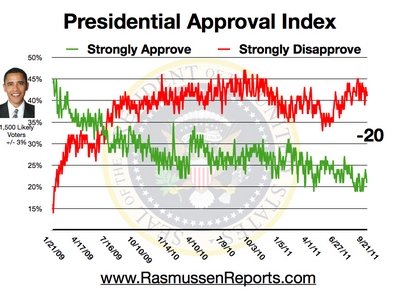 • Presidential Approval Index Tracking Poll
• Voters Question Clinton's Qualifications, Now Rate Trump Equal
• Blacks, Whites Disagree Over Whether There's A War on Police
• Beltway Confidential
• FEC commissioner who repudiated her oath of office should be removed
• A final footnote on Gadhafi

• Exclusive: House Letter Declares Clinton Foundation A 'Lawless' Enterprise
• Former Prosecutor Sues Obama, Al Sharpton For Inciting A Race War
• 'Never Trump' Convention Delegates Just Got A Big Win In Court
• Report Finds Eric Holder Blocked Bank Trial On Drug Cartel Money Laundering Scandal
• Page Six
• Joe Paterno 'just walked away' from Sandusky victim in 1976
• What Obama should be saying after Dallas but won't


• Most Obamacare Co-Ops Have Now Failed
• NASA Spends $73,500 on 'Unconscious Bias' Training
• 'Black Men for Bernie' Member Vows Clinton Won't Win Presidency
• Congress Moves to Ban Private Email, Server Use at State Department
• Democratic Platform at Odds With Hillary on Minimum Wage
• NBC tracking poll: 20% of Hillary voters think she should have been prosecuted
• Change: Cops walk out of Lynx game after players don Black Lives Matter shirts
• Pokemon GO got more American kids off the sofa in 4 days than Michelle Obama's 7 years of haranguing
• Hume: 'Obama chooses to see through the eyes of an aggrieved black activist'

• The Note
• Obama to Visit Dallas in Wake of Police Shooting Deaths
• Why Law Enforcement Isn't Calling Dallas Gunman a Terrorist
• Majority Disapprove of Not Charging Clinton
• Trump Expects More Violence, Friction Between Police, Blacks
"I must be honest. I can only read so many paragraphs of a New York Times story before I puke." -Rush Limbaugh
• Dallas Police Chief Remains Calm at the Center of a Crisis
• Ohio's Open-Carry Laws Disturb GOP Convention Plans
• Can Ryan Still Sell the GOP Agenda?
• Chris Christie Gets Another Audition for the Trump Ticket
• Republican Party can bind convention delegates to Donald Trump
• GOP-led Senate passing bills at rate not seen in decades
• Obama tramples on high ideals of America, fuels Black Lives Matter racism
• Hillary Clinton's socialist makeover complete
• Hillary Clinton Controversy: How Do Email Servers Work?
• de Blasio says Rudy Giuliani's words on Black Lives Matter is hurting NYC, dividing people
• Donald Trump: 'I am the law and order candidate'

• The Briefing Room
• Clinton's lead over Trump shrinks to 3 points nationwide
• Obama's toughest challenge: Healing racial divide
• McChrystal would pass on any role with Trump

• Obama tries to mend tattered ties with police
• GOP operatives dread Trump convention
• How Trump is changing the Republicans' 2016 platform
• Biden laughs at Trump's 'law and order candidate' claim
• Warren's no-bankers push makes it into Dem platform
• Today's Standard
• Many of Hillary's Own Supporters Think The FBI Should Have Prosecuted Her

• Lawmakers press Atty. Gen. Loretta Lynch on Clinton email saga
• How Bill Clinton changed the rules of speech-making for cash
• Obama heads to Dallas, determined to bridge the divide deepened by shootings



• Poll: Clinton struggles to make inroads with young Americans

• Environmentalists, utilities eye Richmond coal ash trial
• Police shooting strikes fear in city marked by its diversity
• Search warrant: Officers saw 'butt of a gun' before man shot



• Five people suspected of shooting at police arrested in Washington DC
• Dow, S&P hit record highs, Nasdaq erases 2016 losses
• House won't vote on gun control at least until September: McCarthy
• Trump and Christie join forces to attack Obama, Clinton
• Obama renews call for US public health insurance option



• Post Politics Blog


• Dallas police chief describes stress, threats against family
• Congressmen ask US Attorney's Office to investigate Clinton for perjury
• The deadliest weapon against Donald Trump? His own words.
• Clinton survives another Salem trial

• Majority in U.S. Prefer State Over Federal Government Power
• U.S. Uninsured Rate Remains at Historical Low of 11.0%
• Ginsburg Goes Rogue
• Social Security Isn't Just for Old Folks Anymore
• Pouty Jeb Bush Blames Pope Francis for Trump
• Sheriff Joe Arpaio: 'It's a War on Cops' . It will be a Different Game when Trump is President
• Caught on Video=> Black Lives Matter Leader Calls for Running Over, Shooting Police
• Surprise! Obama Admin Defends UN Program That Sends Anti-Semitic Textbooks to Palestinians
INVESTOR'S BUSINESS DAILY
• Political News & Commentary: Andrew Malcolm
• Obama And Clinton's Awful Responses To The Dallas Shooting
• No, Brexit Won't Kill U.K.
• Donald Trump Slams 'Sell Out' Bernie Sanders Ahead of Expected Clinton Endorsement
• Congresswoman Indicted for Fraud Claims She's Being 'Persecuted' for Her Race
• Warmist Dem Senators To Rail Against Sketpics Senate Floor
• Rapper The Game Raises $50,000 for Arkansas Police Officer
• USA Network Delays 'Shooter' Premiere after Dallas Police Murders
• Bryan Cranston Does 'Huge' Trump Impression
• Amy Schumer: Katie Couric's Deceptive Gun Control Film Should Be 'Required Viewing'
• Could Trump Pick a Pro-Immigration Veep?
• Bush! You Don't Know What You Got Till It's Gone

• RCP Blog
• Real Clear Markets
• A World Awash in Change – George Shultz
• In Pence, Trump May Have Found His VP Match – Rebecca Berg
• The Perils of Moral Narcissism – Peter Berkowitz
• Experienced Hand Guides Republican House Races – James Arkin
• Obama's Divisive Double Standards
WALL STREET JOURNAL: OPINION JOURNAL
• Best of the Web (James Taranto)
• Healing After Dallas, Without President Obama – Jason Riley



• Blogs: The Corner | Media Blog | Frum's Diary | Mark Levin | Sixers
• Black Lives Matter: Radicals Using Moderates to Help Tear America Apart
• Obama's Police Distortions
• Fundamentally Transformed
• Obama's Selective Inability to Judge the Motives of Mass Killers
• Black Lives Matter Activists Should Live Up to Their Own Call for Compassion
• The Demagogues' War on Cops

• The War on Cops
• Matters of Right and Wrong



• CBS Anchor Demands Executive Action on 'Armor Piercing Bullets'
• Liberal: Cops, BLM Should Team Up Against the Real Cop-Haters, the NRA
• CBS Hits Giuliani for Calling on Both Blacks & Whites to Solve Race
• MSNBC Lets Deray Insinuate Cops Have Themselves to Blame for Dallas
• Fox Schools Jackson on Claim That Dallas Gun Can 'Bring Down a Plane'
• Where's Obama? NY Times Expects Candidates to Be 'Unifying Voice'
• CBS Rushes to Defend Black Lives Matter After Giuliani Blasts Group
• UN Invites 'Black Lives Matter' to Event; UN Rights Expert Cites 'Structural and Institutional Racism' in US
• Gun Homicides in U.S. Down 40% from 1993 to 2014; Lowest Rate in 34 Years
• Gallup: 70% Oppose Considering Race in College Admissions
• Report: Some Illegal Aliens Enjoy Food Stamp Advantage Over U.S. Citizens



• Poll: Clinton Leads Trump by Just 3 Points After FBI Decision
• Black Panther Leader: We Want to Form Our Own Country
• Trump Eyeing Gingrich for National Security Position
• Poll: 52% Say Racial Discrimination a Serious Problem in US

• Which Black Lives Matter?
• Illegals Get Preferential Treatment in Receiving Food Stamps
• Obama: Police Can 'Make the Job of Being a Cop a Lot Safer' by Admitting Their Failures
• Obama: Protests That 'Speak to Power' Are 'Messy and Controversial'
• Republican committee chairs officially ask for PERJURY probe of Hillary Clinton
• Finally! Bernie expected to endorse Hillary
• Theresa May plans her top team as David Cameron chairs his final Cabinet as prime minister
• When is the Republican convention and what can we expect from Donald Trump?


• Sanders expected to endorse Clinton at joint rally
• From LGBT rights to porn, Republicans hash out their stance on social issues
• Hillary Clinton's lead over Donald Trump just got a lot smaller in a new poll