RUSH: Grab audio sound bite one and just number one for right now. I saw this sound bite on the roster today. I said, "This may be the first time in…" What? This is 1993, or '94, whenever the Oklahoma City bombing was. "This is the first time I've seen the Drive-By Media admit this in whatever number, 20-some-odd years." It happened yesterday afternoon on the Fox Business Network's The Intelligence Report with Trish Regan.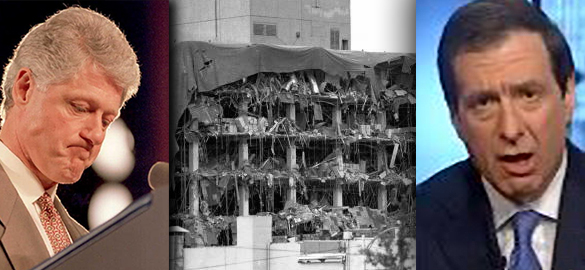 That's the name of the show, and she was speaking with Media Buzz, the media analyst expert at Fox News, Howard Kurtz, about the New York Times editorial saying the Orlando terrorist attack happened "because the Republican Party exploits prejudice rather than extinguish it." The New York Times did say that, blamed the Orlando attack on the Republican Party because we exploit prejudice. The host said, "Howard, you have the Times saying Orlando is the Republicans' fault, not radical Islam. Is that going too far, Howard?"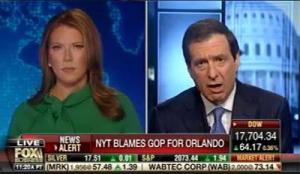 KURTZ: This has gone on for a long time; both sides have occasionally engaged in it. I can remember when Bill Clinton pointed the finger at Rush Limbaugh, saying he created — or helped create — a climate of intolerance before the Oklahoma City bombing. For the New York Times to take legislative fights about gay rights legislation — and somehow tie this to this horrific event in Orlando — I just think goes way too far.
REPORTER: Howie —
RUSH: I never heard anybody in the Drive-By Media admit that they knew this. I thought… You may have. I can't follow everything. I follow more Drive-By Media than most people do. It's a wonder I'm still sane, by the way, and in a good mood every day. I know people that read the Drive-By Media 15% as much as I do and they're already in a funk for the rest of their lives. It's a wonder I'm still stable after exposing myself. Seriously, I've never seen anybody else refer to that. I've played the sound bites here of Clinton saying it about those angry voices on the radio.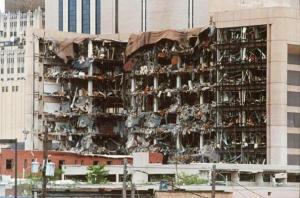 And they claimed they were talk about the Michigan militia shortwave! I've never heard anybody in the Drive-By Media mention it. So they've known all along what Clinton did. They gave him a pass. They never once condemned him for it. And Howard Kurtz really isn't condemning him for it here. He's just repeating the fact that Clinton did it and then, by association, saying that the New York Times went a little bit far here, blaming what went on in Congress. I guarantee you Mateen had no idea what's going on in Congress. He didn't care.