• Psychoanalyzing Obama: Behind the Jobs Bill, a Delusional Stump Speech?
• Why the Demise of Friendly's Is Bad for America
• Report: Holdren's WH Office and IPCC coordinated to subvert FOIA: 'Obama admin. & IPCC have cooperated to subvert U.S. transparency laws, run domestically out of Holdren's office'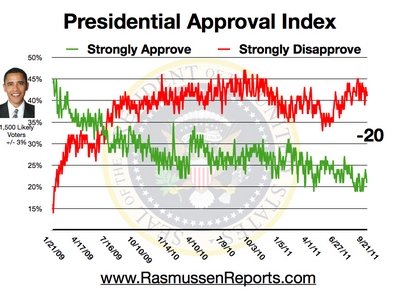 • Presidential Approval Index Tracking Poll
• Obama 43%, Romney 42%
• 34% Say Their Home Is Worth Less Than What They Still Owe



• What Should Occupy Wall Street Protest Against?


• Google Ice Cream Sandwich Debuts
• Top Income in U.S. is…Gasp!…Wash. D.C. Area
• Occupy Wall Street: The Price of Protest
• Obama Finds Economy Makes Policies a Hard Sell on Bus Tour


• D.C. Becomes America's Richest City
• Schultz: 'Occupy' In Tune With Working People


• Tea Party Leader Invites Sean Penn for a Sit-Down Following Racial Rant



• Project Mayhem, Part IV: Lies, Damned Lies and Things Unions Say
• 'Democracy Denied': Little Time to Block FCC from Bypassing Congress on Net Neutrality



• Wednesday Crib Sheet: Cooper Scores Well As Moderator, CBS Promotes Occupy
• Taibbi's Defense Doesn't Wash, NBC's Ratigan Crossed The Line



• Obama: #OccupyWallStreet 'Not That Different' From Tea Party
• Fired LAUSD Teacher: 'Anyone Who Speaks Against the Jews Are Called Racist Nowadays'
• Big Journalism's Loesch On #OccupyWallStreet: 'This Is The Wall Street President'
• Stossel Visits #OccupyWallStreet
• Fake Signatures May Mean Obama Didn't Actually Qualify to Run for President in Indiana
• Ron Paul Asks GOP Candidates to Condemn Ronald Reagan
• Cain: #Occupy Protests Should Be In Front Of White House

• The Briefing Room
• GOP rips Dem silence on anti-Semitism in Wall Street protests
• Obama: We'll hold those who 'screwed up' in Fast and Furious accountable
• GOP senators angry about Reid claim they're rooting for failure
INVESTOR'S BUSINESS DAILY
• Political News & Commentary: Andrew Malcolm
• Dems' 900 Days Of Irresponsibility
• Rick Perry is back and Mitt Romney never left
• Obama's stolen teleprompter recovered, national silence averted
• Zbigniew Brzezinski's Enemies List
• Busting The 1% Vs. 99% Myth
• Judge Economic Policies By State's Credit Ratings
• Gen Next May Not Do As Well As Its Parents
• Americans Now Doing What Gov't Should Cutting Debt



• Rivals challenge Romney game plan
• Perry vs. Romney: Now it's personal
• Pushing in the polls
• Obama wraps up bus tour
• Rick Perry a debate 'bully'?
• GOP high horses on low roads
• Page Six
• Obama's Latest Leftist Allies



• Obama and Occupy Wall Street Are One

• Today's Standard
• The RomneyCare Bout – Jeffrey Anderson

• Top of the Ticket
• Officials' embrace of Occupy L.A. loosens



• Social Security recipients to get 3.6 percent more
• Ford workers approve new contract, 63 pct in favor
• Police seek escaped exotic animals in Ohio
• All against Cain: Upstart targeted in GOP debate
• Apple employees to celebrate Jobs, stores to close
• Free necklaces and shipping for holiday shoppers?



• Greece protesters clash with police at austerity strike
• Consumer inflation subdued, home building rises
• A divergence of sentiment and reality?
• Romney on the attack at Republican debate
• Republican debate gives feisty Perry chance to recover
• States near foreclosure deal with banks



• Cain, Romney on hot seat during GOP debate
• Obama's use of teleprompter mocked
• Obama to unveil private sector partnership to hire 25,000 veterans
• Why a candidate's faith matters?
• Jon Huntsman's last stand
• John Beck to start as Redskins quarterback on Sunday

• Americans Blame Gov't More Than Wall Street for Economy
• Cain Maintains Positive Intensity as Recognition Grows

• RCP Blog

• Real Clear Markets

• Debate Grows Testy as Romney Beats Back Attacks – Erin McPike
• Palin: Newt Won Vegas Face-Off, Would "Clobber" Obama In A Debate
• Beltway Confidential
• Perry Finally Shows Up – Byron York



• Uncommon Knowledge with Larry Arnn



• Romney gets hit, fires back during Vegas debate



• Best Moments From the GOP Debate
• D.C.'s Police Bond With Protesters



• Cuba drills where Obama fears to tread
• Wall Street tells Dems not to expect any love this cycle
• Celebrated redistributionists discover healthy respect for private property



• The Note
• Political Punch – Jake Tapper
• Owner of Exotic Farm Killed Self, Let Animals Loose
• Facebook Friends Linked to Brain Size


WALL STREET JOURNAL: OPINION JOURNAL
• Best of the Web (James Taranto)
• Cain's Stimulating 9-9-9 Tax Reform – Arthur Laffer
• Your Cash for Their Clunkers
• Jon Huntsman: 'Too Big to Fail' Is Simply Too Big
• Wi-Fi and the Mobile Meltdown
• 'I'm the President'



• Blogs: The Corner | Media Blog | Frum's Diary | Mark Levin | Sixers
• Solyndra and the IRS
• Obama's Empty Apologetics

• Nothing But a Political Ploy



• Will Media Report Alleged Rape At Occupy Cleveland Rally?
• Bozell Column: A Green Whitewash
• Income Inequality Not What OWS-Loving Media Claim
• Santorum to Romney: 'You Just Don't Have Credibility, Mitt, When It Comes to Repealing Obamacare'
• Gallup: Herman Cain Is Top Choice of Tea Party and Southerners
• Biden: 'I Wish' Jobs Bill Critics Knew What It Feels Like to be Raped, Robbed



• Romney Emerges From Debate as the Man to Beat


• Big Three Networks Devote a Mere 40 Seconds to ObamaCare Fail
• CBS's Dickerson: Herman Cain Needs to 'Moderate the Jester Act'
• Will Other Journalists Follow Martin Bashir and Highlight Anti-Semitism at Wall Street Protests?
• CBS Touts Wall Street Protesters' Music as 'Tool for Social Justice'



• GOP front-runners hit hard in debate
• Debt-cuts panel gets conflicting Hill input
• Man living as an 'adult baby' is cleared of Social Security fraud
• Food taxes more about milking consumers than helping them
• Obama nixes parley with 'Occupy' activists
• Purported plot on envoy pushes Iranians, Saudis closer to brink



"I must be honest. I can only read so many paragraphs of a New York Times story before I puke." -Rush Limbaugh
• A Fierce Clash for Romney and Perry in G.O.P. Debate
• Turkish Forces in 'Hot Pursuit' After Attack
• It Didn't Add Up
• Some Say City's Million Trees Plan Is Too Much
• Picture Keeps Getting Darker for Obama's Health Law


• Solyndra Fiasco Exposes the White House – Dan Thomasson
• 'You're all going to die… Allahu Akbar!': Southwest flight forced to make emergency landing after passenger 'shouts threats in Arabic'
• Apple stores to close for hours today so employees can watch Jobs memorial webcast
• They say a photo is worth… how much? Asking price for a picture with Michelle Obama is $10,000 at Chicago fundraiser


• French warning to euro summit