• President Obama's Teleprompters stolen
• Thieves steal truck with President's Teleprompters
• Inflation Pressures Intensify as Producer Prices Jump Higher
• Gilad Shalit freed in Israeli-Palestinian prisoner swap


• Why the World May Be Running Out of Clean Water
• Why You Shouldn't Compare Occupy Wall Street to the Tea Party
• Report: Holdren's WH Office and IPCC coordinated to subvert FOIA: 'Obama admin. & IPCC have cooperated to subvert U.S. transparency laws, run domestically out of Holdren's office'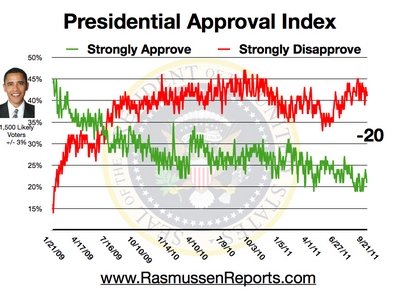 • Presidential Approval Index Tracking Poll
• Cain 43%, Obama 41%
• 54% Still See Bailouts As Bad for the Country



• Is America Better Now That We're 1000 Days Into Obama's Presidency?
• China Economy Grows at Slowest Pace in 2 Years
• Goldman's Nine-Month Pay Cost Declines to $292,836 Per Employee
• UnitedHealth Shares Fall After Health Insurer Sees Medical Cost Increases
• Bad Math Hurts Cain's Tax Plan

• Poll numbers should alarm Dems
• Schultz: 'Occupy' In Tune With Working People




• President Clinton Appears in 'Funny or Die' Video
• 'The Seven Samurai' Set In Afghanistan, Starring Navy SEALs



• Anti-Defamation League Speaks Out: Calls on #OccupyWallSt to Condemn Antisemitic Remarks Made at Rallies
• #OccupyHarrisburg Turnout Underwhelms
• #Occupy Arrest Scam Unmasked



• Taibbi's Defense Doesn't Wash, NBC's Ratigan Crossed The Line
• Who Watches the Watchmen: CNN Uses PolitiFact to Hammer Credibility of GOP Candidates


• Obama Ridicules GOP: Maybe They Couldn't Understand Jobs Bill
• Hamas Frees Israeli Soldier as Prisoner Swap Begins
• New Black Panther Party: Herman Cain A 'Boot-Licking Uncle Tom'
• Harry Belafonte Falls Asleep On Live TV
• Breitbart: Media Whitewashing Anarchist Nature Of #Occupy Protests
• CNN's King Blanches At Idea Of Rush Praising His Investigation Of Holder's Fast And Furious Testimony

• The Briefing Room
• Obama campaign ties Romney to Wall Street, corporate greed
• New healthcare fight is joined as White House's 2010 law implodes
• House GOP looks to make legal case in Solyndra loan debacle
INVESTOR'S BUSINESS DAILY
• Political News & Commentary: Andrew Malcolm
• The President's Strange Bedfellows
• The Austerity Myth: Federal Spending Up 5% This Year
• As the media worm turns: Obama now getting clobbered
• Perry's Jobs Plan: Drill, Baby, Drill
• Occupy Wall St.: Right Cause, Right Moment


• 'Obamabots' defend POTUS

• Is Herman Cain serious?
• Where Obama's indie problem began
• Obama politicking on taxpayer dime?
• Poll: More blame D.C. than Wall St.
• Report: Obama teleprompter stolen
• Page Six
• Majority of NY'ers support Wall St. protest: poll



• Obama and Occupy Wall Street Are One

• Today's Standard
• Republicans Learn Moneyball

• Top of the Ticket
• Republicans lay groundwork for healthcare repeal



• Israeli military: Schalit suffering malnutrition
• Mass rallies celebrate freed Palestinian prisoners
• At debate, focus is on fast-rising Herman Cain
• Obama basks in Southern hospitality on bus tour
• UK orders asset freeze over assassination plot
• In Nevada, it's Romney and Paul



• Goldman posts deeper-than-expected loss
• Wall Street extends losses on Europe worries
• Gasoline boosts producer prices, seen temporary
• Clinton in Tripoli; Gaddafi forces counter-attack
• Cain to face tougher scrutiny at Republican debate
• America's biggest growth industry: declinism



• Iran's nuclear program stumbles with old machines, shortages, experts say
• Clinton arrives in Libya for talks
• Israeli soldier reunites with family; Palestinians prisoners are freed?
• Occupy 'fill-in-the-blank'
• Family condemns death of Awlaki's son
• What is going on in the mind of Redskins' coach Shanahan?

• Most Americans Uncertain About "Occupy Wall Street" Goals
• Record-High 50% of Americans Favor Legalizing Marijuana Use

• RCP Blog

• Real Clear Markets

• Natural Gas Will Repower America
• Beltway Confidential
• Sebelius says CLASS flunks. Obama is in denial



• A bad deal
• Magic Bus



• Occupying children's minds: 'Radical children's literature' at Wall Street protests
• Occupy Wall Street on George Soros: 'He's one of the 1%'
• Occupy Wall Street: The draft manifesto
• Ask Matt Labash: Occupy Wall Street, Nazis vs. Commies and American whining



• The Case for a Leaner U.S. Military


• Celebrated redistributionists discover healthy respect for private property
• VA Dems ducking Obama?
• Elizabeth Warren: "I'm going for the hick vote"
• CNN poll: 59% believe Obama's policies will fail
• Audio: Howard Stern's crew interviews Occupy Wall Street protesters



• The Note
• Political Punch – Jake Tapper
• Obama to Channel 'Occupy' Populism on Tour


WALL STREET JOURNAL: OPINION JOURNAL
• Best of the Web (James Taranto)
• Protesters Out of Step With Mainstream – Doug Schoen
• 2nd Amendment Courtroom Showdown
• Washington Sets a New Spending Record
• The Contradictions of Harold Koh
• Behind the Lines With Krugman's Army



• Blogs: The Corner | Media Blog | Frum's Diary | Mark Levin | Sixers
• ObamaCare's Great Unraveling
• Reconciliation
• Solyndra Questions Remain
• The Great Unraveling
• Spreading the Wealth?

• Midnight in America
• The Woman on the Plane



• CBS: Coffee 'Might Be Heading For Extinction' Due to Climate Change
• NBC's Savannah Guthrie Gushes Over 'Tireless' Hillary Clinton's 'Blunt Talk and Personal Charm'
• Ann Curry Fawns Over Democratic Senator 'Trying to Inspire A Lot of People'
• Scarborough: Obama Can't Side With Protesters – 'He Got More Money From Wall Street Than Any Candidate' in History
• Obama: Republicans Want 'Dirtier Air, Dirtier Water'
• State Department: Mexican Drug Cartel Activity Is 'Consistent With' Terrorism
• Teamsters' Hoffa to 'Hold Accountable' Congressmen Who Voted for Obama-Backed Free-Trade Deals
• Jackson Lee: Abortion A 'Needed Action'; Refers to Babies' Heartbeats As 'Sounds'



• Herman Cain: 'I Don't Talk Politician'
• Cain Campaign Fights to Keep Momentum
• Obama's 1,000-day Report Card: 'Gridlock, Dysfunction'


• Williams Hypes Protests 'Still Growing, Changing and Spreading,' CBS Delivers 'Series' of Genial Stories
• NBC's Gregory: Occupy Wall Street Will 'Dovetail Nicely' With Obama's Campaign Message
• Paul Krugman: Occupy Wall Street Protest 'a Wonderful Thing'
• Debunking Claims of an Anti-Obama Media Bias



• ' Fast & Furious': How a botched operation spawned fatal results
• Judge denies bid by government for Solyndra trustee
• U.S. pegs Haqqani as most lethal foe
• '9-9-9' tax plan raising Cain, doubts
• Liberalism's unwashed last stand
• Consumer electronics chief: Obama regulators lack business experience



"I must be honest. I can only read so many paragraphs of a New York Times story before I puke." -Rush Limbaugh
• Countless Grievances, One Thread: We're Angry
• Massachusetts Tries to Rein in Its Health Cost
• Facing Loss of Subsidy, Farmers May Get a New One
• Republicans and Foreign Policy
• Budget cuts claim thousands of county, city jobs


• GOP Nominee Will Be Romney or Perry – Charlie Cook
• 'It dropped like a rock and went straight down': The moment Virgin's SpaceShipTwo hurtled out of control


• Barack Obama's Disastrous First 1,000 Days
• 'Will you occupy my life?' Anti-capitalist activist proposes with help from Wall Street protesters