• Polls Reveal Perry Troubles Growing
• Romney Vows 'Consequence' for Pakistan
• Obama: I'm the Underdog in 2012
• Van Jones to Libs:'Steal' Tea Party Plan
• Iran Laying Low in Iraq After Attack


• Weigel: How the Occupy Wall Street Protests Have Created a Post-Obama Left
• Hitchens: Think the Killing of al-Awlaki Was Illegal? What Would You Have Done?
• NFL Great Walter Payton's wife talks
• Life is never the same after rape
• Rahm Emanuel wants city worker deadbeats to pay up
• Hank Williams, Jr. Compares O to Hitler
• Martha Stewart Pees with Door Open
• John F'ing Kerry, Scott Brown work together despite different goals
• Romney maintains hard line on illegals
• Afghanistan's Dirty War: Why the Most Feared Man in Bermal District Is a U.S. Ally
• Bankrolling the Climate-Change Truth?
• Nobody Orders Salad at McDonald's
• A sad day in Journalism: NYT's Andrew Revkin promotes word 'denier' in global warming debate: 'A Map of Organized Climate Change Denial'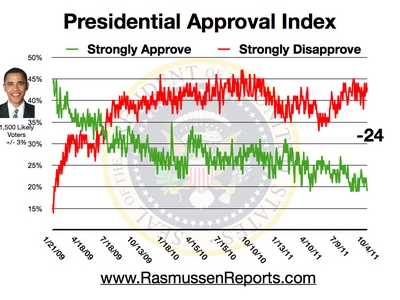 • Presidential Approval Index Tracking Poll
• Only 29% Think U.S. Has Best Economy
• Generic Congress: GOP 44%, Dems 38%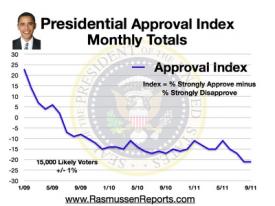 • Bernanke: Fed Prepared to Take Action
• Party Like It's 1929, Toast Prohibition With These N.Y. Speakeasy Classics
• Tigers Beat Yankees 5-4
• Oral Sex May Cause More Throat Cancer Than Smoking in Men, Researchers Say


• CHART OF THE DAY: For Those Who Don't Believe That History Repeats Itself



• Weight Restrictions For Candidates!



• Racial-Enforcer George Lopez Uses 'Oreo' Argument Against Herman Cain
• Who is the New Black Panther Party?
• Did Media Matters Collude With DOJ On Black Panther Story?



• Why Is Media Matters Still Tax Exempt?
• Village Voice Maxes Out the Race Card



• White House kept Democratic senators hanging on the phone
• Boehner: Senate's China currency bill a 'dangerous' move
• Gingrich surprises Al Sharpton with birthday wish
INVESTOR'S BUSINESS DAILY
• Stocks Slide; Yahoo Buoys Nasdaq
• Herman spurts into second
• Doc Dump: White House Knew



• Christie clear: It's a no
• Mitt 'doesn't throw interceptions'
• Can Obama legally kill you?
• The Blog

• Overrated
• Morning Jay: Christie Should Follow Woodrow WilsonAnd Run

• Senior DoJ officials knew of ATF program
• Dalai Lama cancels his visit, no visa
• In China, fake phones are losing appeal



• Studies of universe win physics Nobel
• Knox leaves Italy to head home to US
• Truck bomb in Somalia kills 70
• Ford to add 5,750 new jobs, invest $4.8B
• Perry once defended Confederate symbols
• Report: Sprint to buy 30M+ iPhones


• New iPhone after 15-month hiatus
• Health consumers make deficit fight
• Bernanke: Fed to do more to aid economy
• Homeschoolers as GOP foot soldiers
• Banks may pay more for Greece
• Obama's jobs bill falls to pieces in Congress
• Post Politics Blog



• Perry slips, Cain rises in bid for nomination
• Republicans expect to win in 2012
• Drawing inspiration from Arab Spring, protests spread beyond Wall Street
• The jobs bill is officially dead
• Christie's temper
• The great Democratic footwear debate
• Job Creation Falls Back Further in Sept.
• Cities: Where Good Jobs Are Created
• Democrats Dispirited About Voting in '12

• Food labels may not tell you everything
• It can always be morning in America
• 'Durbin fee' costs bank customers billions
• Hollow out defense, fatten up cronies
• Avert Social Security disaster
• Ms. Ali Regrets
• My Thoughts on Amanda Knox



• Tea party leaders on 'Occupy Wall Street'
• Michael Moore: Occupy Wall Street
• Special election for West Virginia governor
• 'Green Jobs' farm in Colorado sheds jobs



• Inside Obama's Populist Makeover
• Unions Join Occupy Wall Street
• Why Is Herman Cain Winning?
• Christie Won't Run for President



• Ron Paul on the Awlaki strike
• Celebrated non-candidate calls press conference
• Perry's not a racist say Texas Democrats
• "Durbin Fee" while using your debit cards



• The Note
• Political Punch (Jake Tapper)
• Christie Decides Not to Run
• Fannie Mae Knew of 'Robo-Signing'?
• Obama Admits Americans No Better Off
• Obama as Underdog, but Against Whom?


WALL STREET JOURNAL: OPINION JOURNAL
• Best of the Web (James Taranto)
• Sarbox and Immigration Reform for Jobs
• What Happened to Post-Racial America?
• More of the Same Old Change



• Blogs: The Corner | Media Blog | Frum's Diary | Mark Levin | Sixers
• Capable of Honor: Fox at 15
• Warmists Think We're Stupid



• ABC and NBC Champion Left-Wing Anti-Capitalist Protests, Fueled by Cookies from a 'Grandmother in Idaho'
• House Majority Leader Cantor: Obama's Jobs Package is Dead
• Rush: Obama Could Buy American Airlines, Make It Fly 'Airplane Equivalent of the Volt'
• Term Limits for Marriage? Maybe
•No Same-Sex Weddings at West Point's Catholic Chapel, Says Military Archdiocese



• 55% of Americans Say Obama Will Lose

• ABC and NBC Champion Left-Wing Anti-Capitalist Protests, Fueled by Cookies from a 'Grandmother in Idaho'
• Energy official praised Solyndra before bust
• Stumbles aside, Perry a top contender
• 'Underdog' Obama on attack against GOP
• Right-to-work drive gains steam in MI
• Obama ends long delay on free-trade
• Al-Awlaki would have been difficult to try
"I must be honest. I can only read so many paragraphs of a New York Times story before I puke." -Rush Limbaugh
• Fed Chief Raises Doubts on Recovery
• Defending Romney
• After Ruling, Hispanics Flee an AL Town
• Foreign Aid Faces Major Cutbacks in Budget Crisis

• Ford Reaches Contract Deal With U.A.W.
• Contraceptive Used in Africa May Double Risk of H.I.V.
• Homecoming Queen Kicks Winning FG
• Construction Spending Rose In August
• No Tit-For-Tat In Solyndra Loan
• JR Martinez gets longest standing ovation ever on Dancing with the Stars as poignant tribute to war heroes reduces judges to tears